In July of 2012 I went on a kayak trek through Glacier Bay in Alaska. I was with a group of friends from my son's boy scout troop, dads who have continued to enjoy outdoor adventures after the scouts have moved on. We spent a year planning this self-guided trip, including kayak instruction and practice, dry runs for our gear, and detailed equipment, food, and logistics planning. Our total costs were less than $1200 each. We were each able to take advantage of a free flight offer from the Alaska Airlines Visa Card -- this helped with our costs.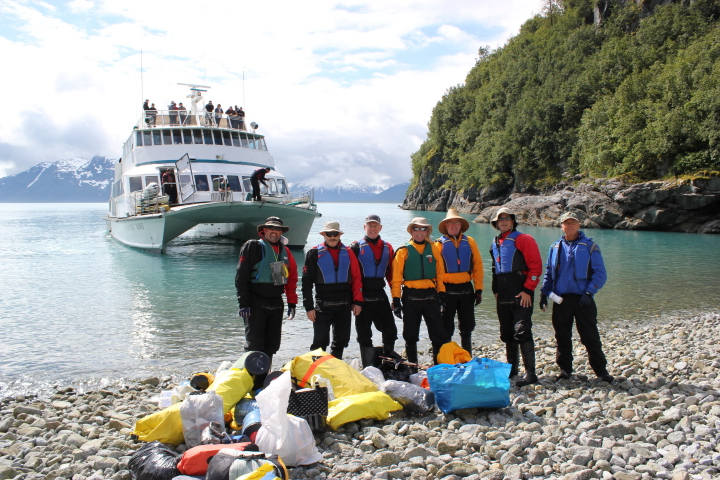 We rented kayaks for the week from Glacier Bay Sea Kayaks, and I highly recommend them. We booked passage on the Baranof Wind, a daily sightseeing boat that leaves from the Glacier Bay Lodge. The Wind makes stops to drop off or pick up kayakers as needed. The kayaks are loaded onto the front deck and all of the gear is staged for rapid exit from the boat. The drop-off is done in a big rush so that the other people on the boat are not stuck waiting around too long. We were dropped near Rendu Inlet, about 17 miles from the famous Margerie Glacier.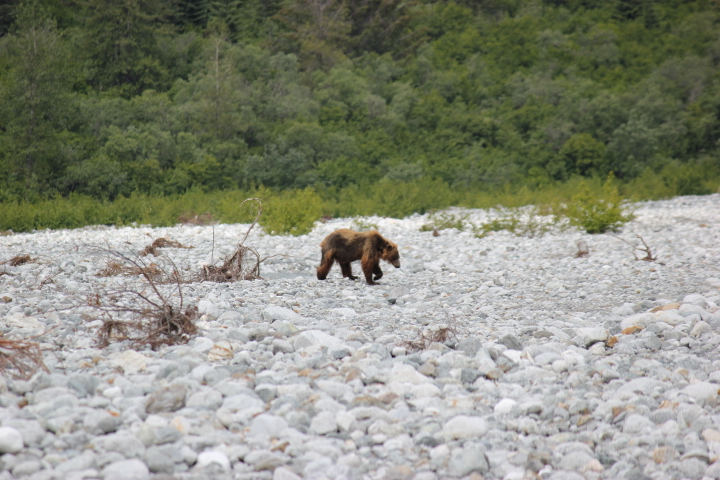 Glacier Bay is grizzly territory and visitors are required to carry bear spray. As it turned out, we only saw one bear while we were actually camping. It was a big one, but it kept pretty far away from us and was more interested in the streams around our camp. We did see some other bears from the decks of the Baranof Wind, on our way out of Glacier Bay at the end of the week.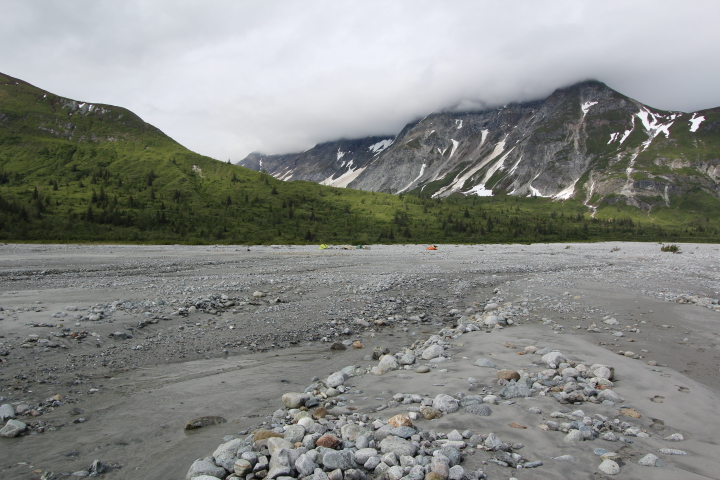 Our first campsite, across from Russell Island, was quite spacious. You can just see the tents at the back of this photo. What you can't see is that at high tide, almost all of that land vanishes. The differences in tides can be as much as 20 feet in Glacier Bay, which makes choosing a campsite a little tricky. You can have 500 feet of land when you set up and then find you are right on the water a few hours later. This campsite had a very unique feature -- a resident humpack whale! There was a whale going back and forth just across the narrow channel all day and all night. I got up in the middle of the night to check the tide levels and the sound of the whale spouting was loud -- my first thought was bear! I took a very quick swim here -- the water was painfully cold after just a couple of minutes.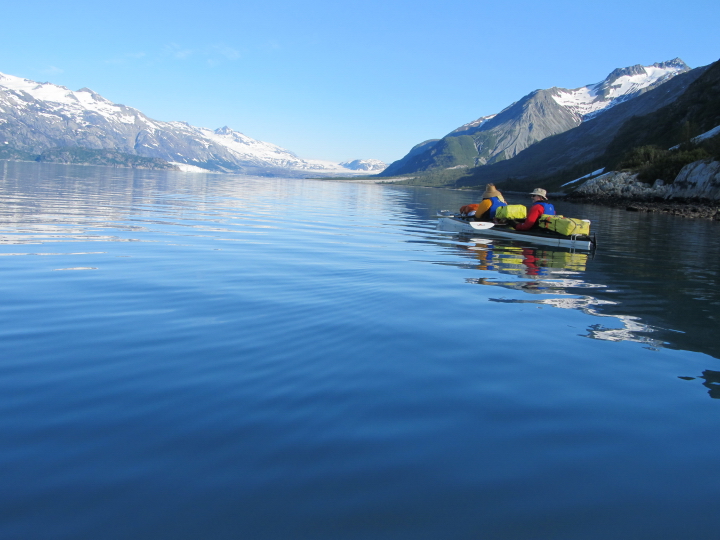 On our second day we paddled up Tarr Inlet to the Margerie and Grand Pacific glaciers. We had the entire Bay almost to ourselves. The water was amazing -- totally flat, almost a mirror. And most amazingly, the weather was crystal clear and sunny. Prior to our arrival it had rained for more than a month straight -- Glacier Bay is actually a rain forest. During our week though there was absolutely no rain and almost no clouds.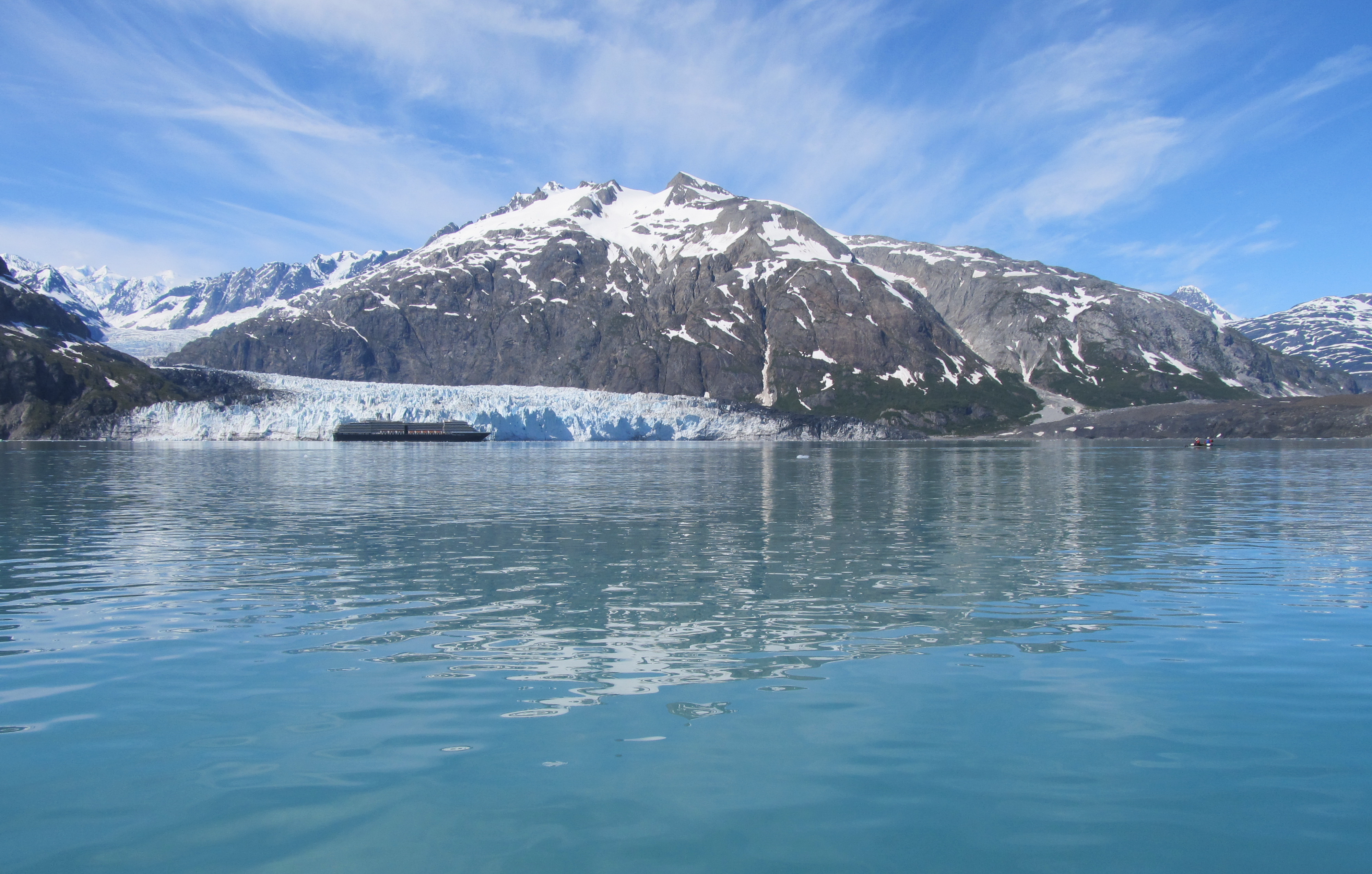 Two cruise ships a day are allowed into Tarr Inlet. Aside from the cruise ships we saw very few other people. Note how small this cruise ship looks next to the Margerie Glacier. In the photo below, we are actually between the cruise ship and the glacier. Distances and sizes are very deceptive in Glacier Bay.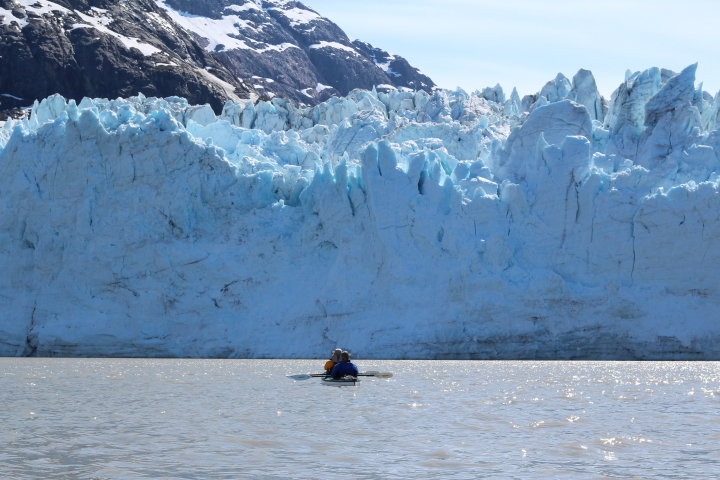 The Margerie Glacier is famous for calving and it was very active while we were there. It made cracking sounds all day and all night. We camped directly across from the Margerie and could hear it all night long. Sometime during the night there was a huge cracking sound and a large wave hit the shore near our camp.
We had several campsites that were stunning. This was our site at Tarr Inlet. It looked directly at the Margerie Glacier and was right next to the massive Grand Pacific glacier.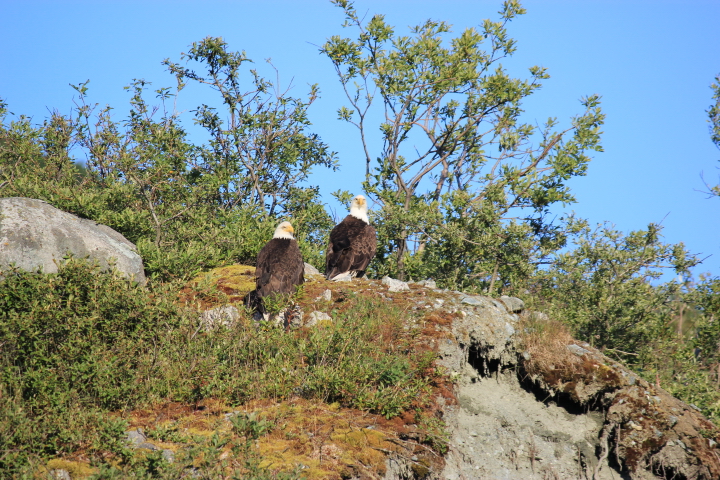 The amount of wildlife in the Glacier Bay area is simply amazing. We saw many eagles and countless other birds every day. We saw whales spouting and breaching every day, wolves playing on a beach, sea otters and of course the bears. Everyone can be a great photographer in Glacier Bay (sorry Charlie!).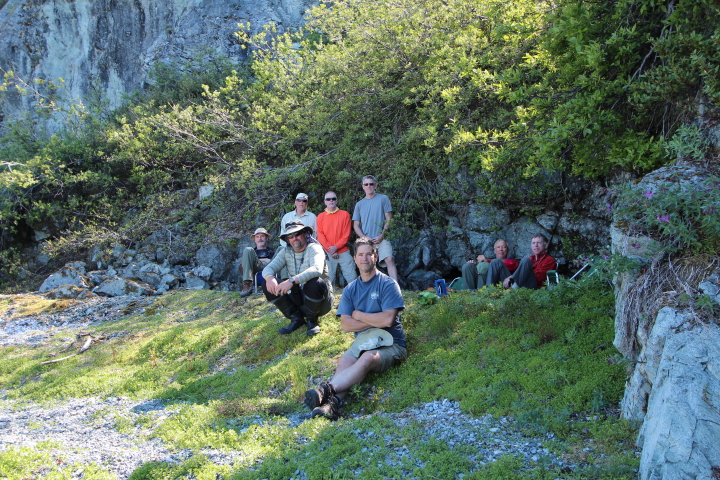 We spent hours just enjoying the view from this spot at our third camp. Right next to this spot was a beautiful waterfall. For the view, look below. Yes, we had brought our SlingLight chairs with us.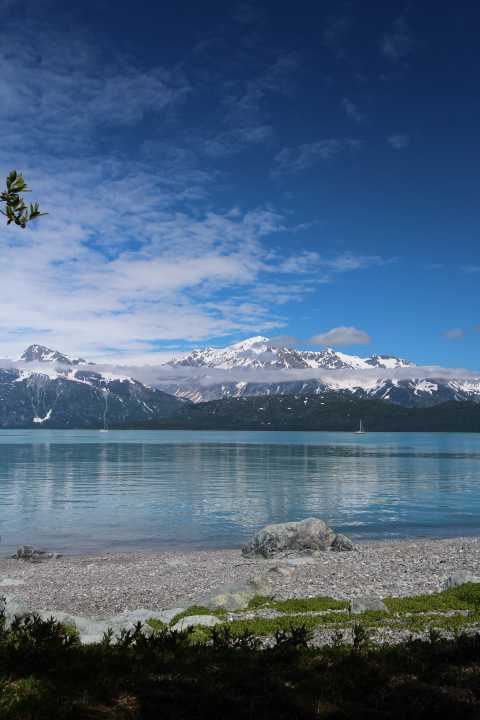 This was the view looking out across the Bay.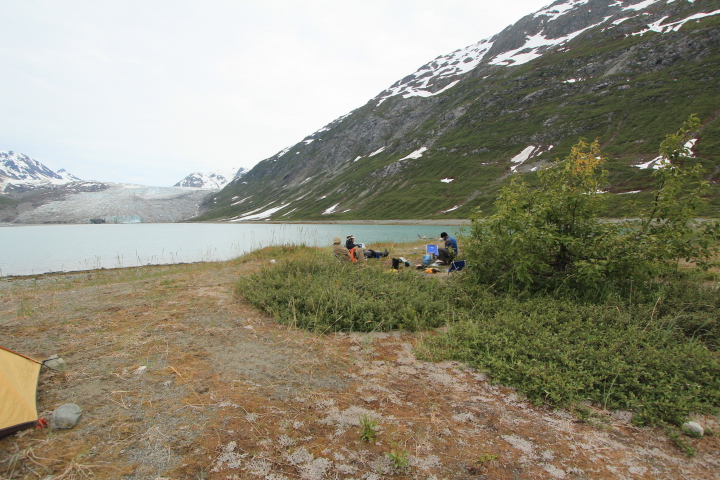 Another great camp, this one in Reid Inlet, directly across from the Reid Glacier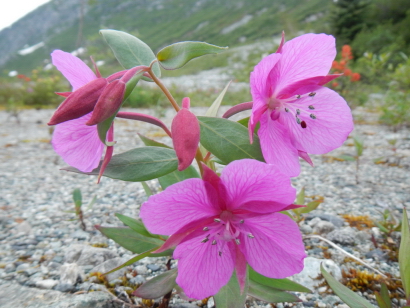 Our camp near the Reid Glacier had tons of colorful flowers. Actually we felt a bit guilty camping in this area as the plants already seem a bit challenged by the environment.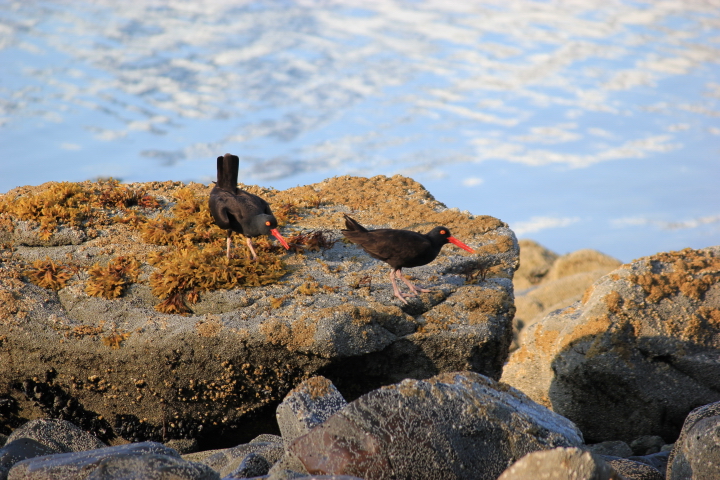 We were terrorized by these birds, the Black Oystercatcher aka the Devil Bird. We learned later they protect their nests fiercely, up to a range of 1 mile from the actual nest.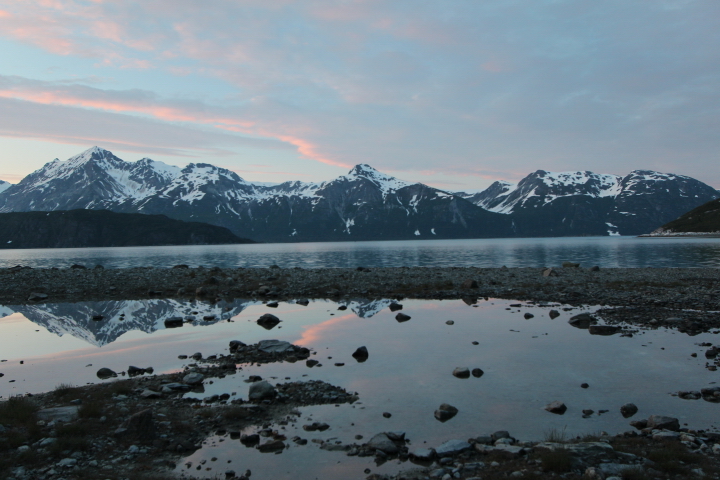 With 20+ hours of daylight each day, sunsets were very long. This one had the best colors of the week, but was hard to capture in a photo.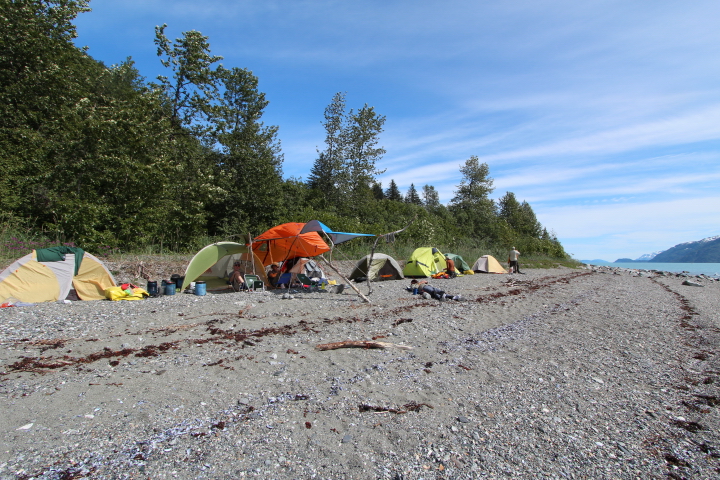 Our last camp was nicknamed Camp Baker as the sun was very intense and there was little natural shade. We had brought along a shade tent and we added a bunch of tarps to it to create as much shade as possible. With each of our camps we found that the features or beauty of the campsite was revealed over time. Several of them had wonderful rocky waterfalls, some of them had dense wildlife, several had majestic views in all directions. With each of the camps we were reluctant to leave.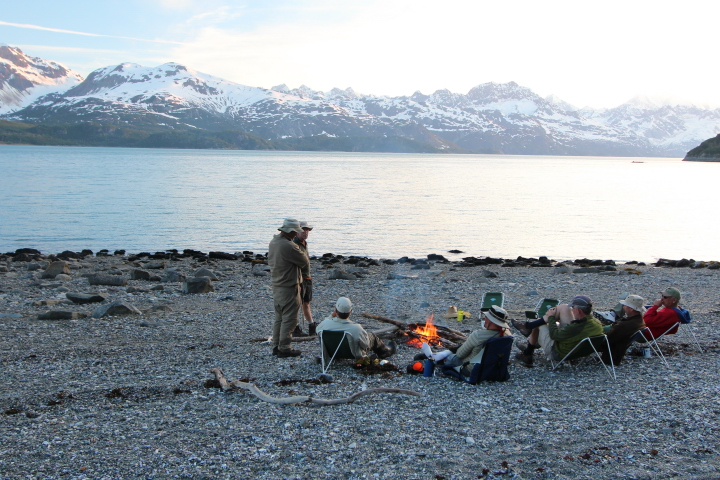 Fires were permitted as long as they were made in the intertidal zone. On our last night we had a big fire. That thing floating out in the water is a large iceberg.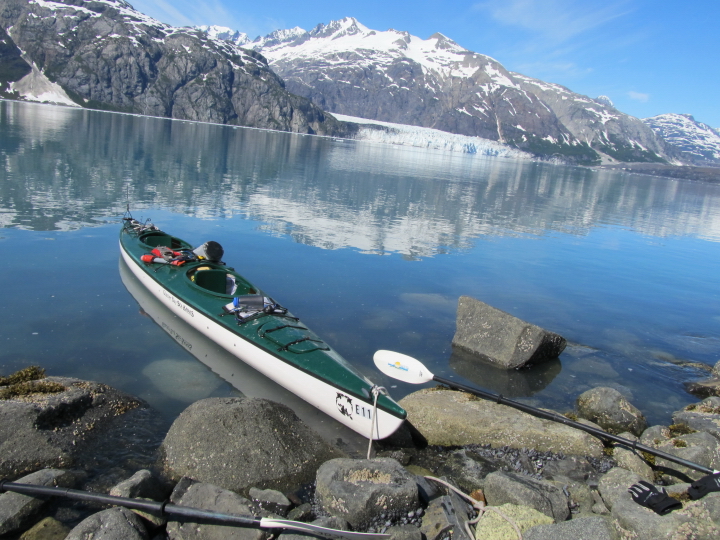 This was a fantastic trip. We were incredibly lucky with the weather, and all of our planning paid off in that we had no equipment, route, or food issues. Most importantly, I believe we all enjoyed each other's company. We had many hours together on and off the water, but at the end of the week I think we all wanted more.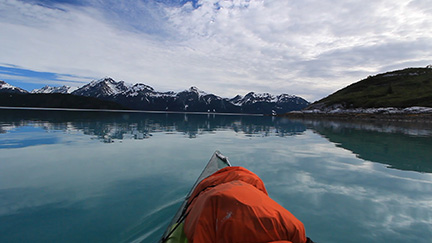 Click the image above to see a 3-minute video of our trip. Be sure to select HD mode and listen to the audio. The host is Vimeo.